It's inky, mahogany in color, thick and syrupy; oozing with aromas of dried fig, dates and raisins.  This dense, muscular monster is punctuated with flavors as far ranging as licorice, coffee, figs, cocoa and treacle.  What is this intriguing wine, you ask?  Why, it's the Sherry region's most decadent "dulce naturale" wine, made with the grape Pedro Ximénez.
Some love it, while others hate this nuclear bomb in a glass. Not for the faint of heart, Pedro Ximénez or PX, the grape used to make one of the richest, sweetest dessert wines on the planet somehow manages to maintain a certain freshness and elegance that belies the fact that many examples exceed 400 grams of sugar!  Of course, this has to do with its relatively high levels of acidity.
The secret to obtaining this elegant balance is through "asoleo,"  or literally, the "sunning" of the grapes.  The benefits of drying grapes out in the sun is that the acidity remains intact as the grapes raisin and their juices concentrate.
The PX of the Sherry region is different than most dessert wines in that it is fortified with the addition of a wine spirit.  Once Pedro Ximénez has been stabilized on a microbiological level, the fermentation arrested using wine spirit, further wine spirit is added to fortify the wine up to between 15 and 17 degrees of alcohol.
The PX is then usually put into oak casks that are part of a solera, Sherry's famous system. This allows the wine to age via fractional blending.  The final product will be a mix of different years, with the exception being "Vintage" Sherries or "Añadas," which are aged in the same cask.
Interestingly, when purchasing sherry, you may notice VOS (Very Old Sherry) 20 or VORS (Very Old Rare Sherry) 30 on the label.  This means the average age of the solera wine is at least 20 or 30 years old.  A solera can date back to the 18th century, theoretically meaning that some drop of wine from many years ago could still exist in the solera.  In order to determine the rough age of a bottle of wine, the Consejo Regulador  uses carbon dating and puts the wine through a panel tasting.   A 30 VORS could actually be closer to 50 years old, which from a wine geek perspective is pretty amazing.
Delicious alone or with a dark chocolate cake, on ice cream or blue cheese, PX is a bargain in the dessert wine world, especially when you consider the level of aging each of these wines undergoes.    I recently tasted one that was about 70 years old and I cherished every drop in my glass.   Of course, this wine was extremely expensive, but very good PX can still be found between 20-30 GBP.
Below are some compelling examples of PX: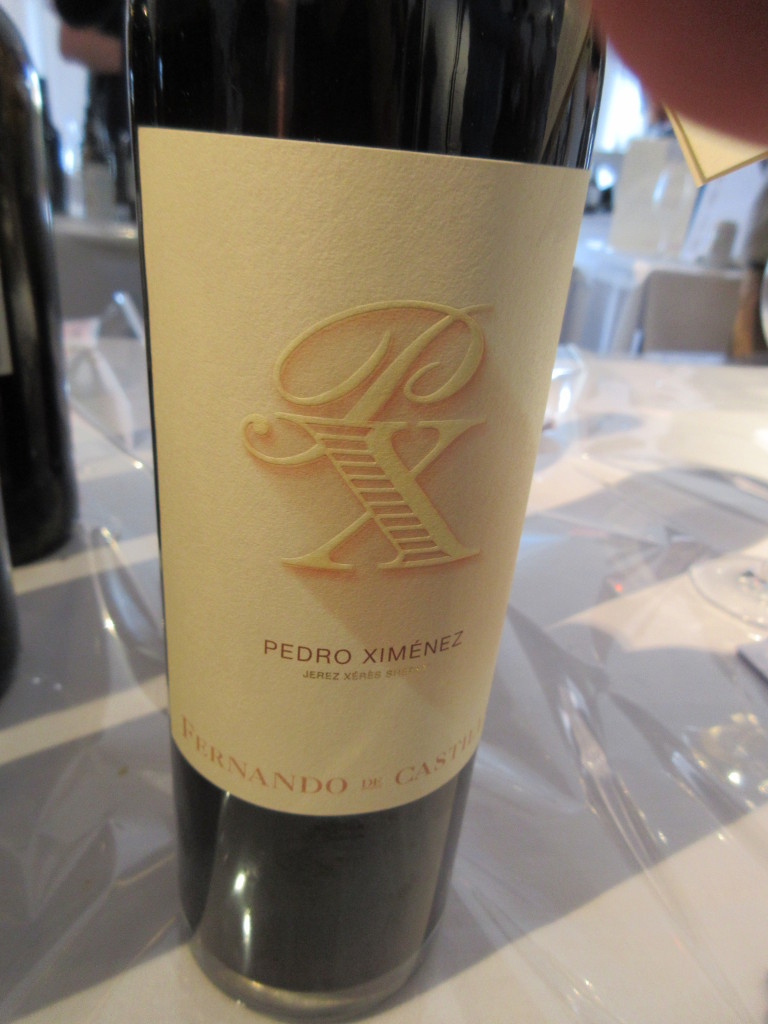 Fernando de Castilla is a small, independent sherry house taken over in 1999 by Norwegian Jan Pettersen.    Since then, the bodega has focused on making their Antique range of single solera Sherries top notch.
Fernando de Castilla's Antique Pedro Ximénez VOS has flavors of sticky toffee, dark chocolate and figs.  This 20 year old is well integrated despite logging in close to 500 grams/liter sugar.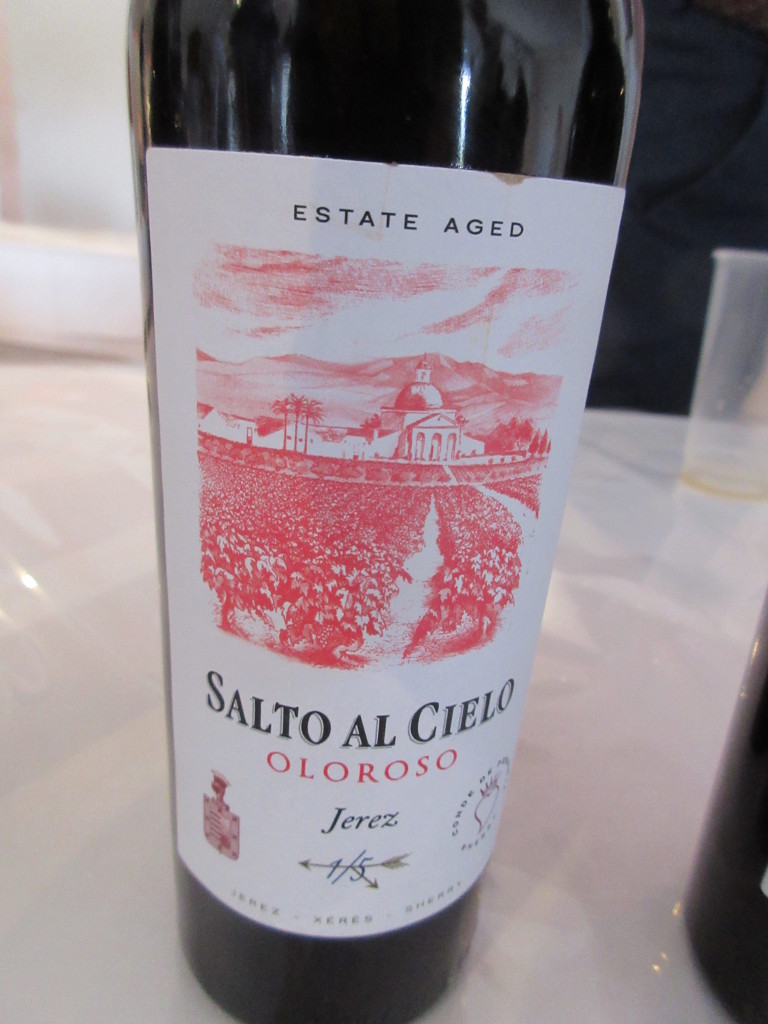 Salto al Cielo is a boutique almacenista Sherry producer.  Their Salto al Cielo Pedro Ximénez is from one single butt, so supply is very limited.  Salted caramel, coffee notes and dried prunes were among some of the rich flavors present here.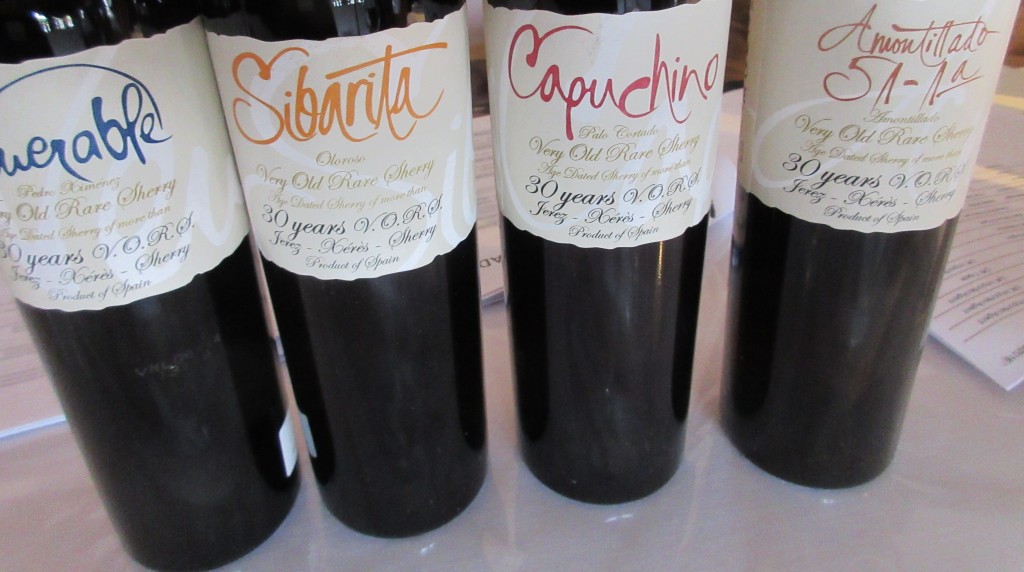 Osborne was founded in 1772 by English entrepreneur Thomas Osborne Mann, who started shipping his own sherries in 1804.   Today, Osborne owns a large bodega complex on the outskirts of El Puerto de Santa María, as well as an older bodega in the center of town that used to belong to the family Moreno Mora.  This bodega has a fantastic range of VORS sherries and is worth a taste and a visit, if you are lucky to get to the Sherry triangle.
Osborne's Venerable Pedro Ximénez VORS 30 Year old is very elegant and full bodied, with dried dates and figs, cocoa and molasses notes.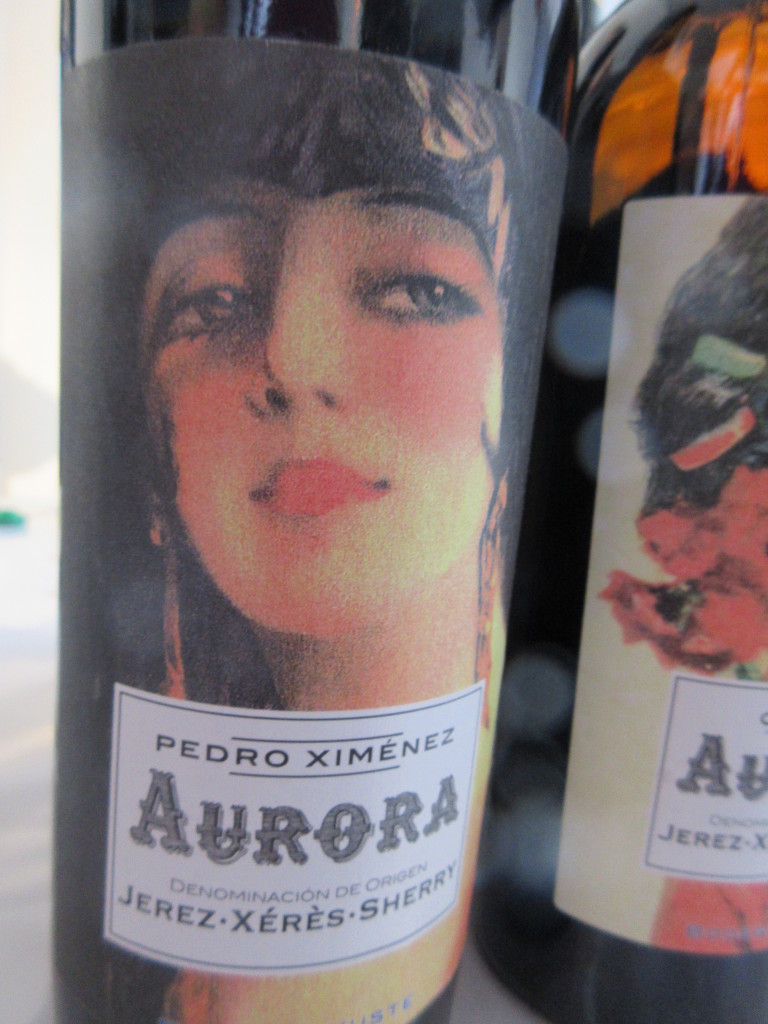 Another cool, smaller bodega producing interesting sherries, Bodega Yuste Aurora 's Pedro Ximénez  is well-balanced and ready to drink now despite its density.  Loaded with figs, dates and cocoa flavors, the opaque brown-black wine toffee, black coffee flavors.
Bodega Emilio Lustau is one of the most lauded producers in Sherry.   In fact, the bodega was the most awarded European winery at the recent 2015 Wine Challenge.   They definitely have an extensive range of fantastic sherries that are worthy of serious attention, and their estate tours are not to be missed, as you can see above!  I was there a few years back and had a fantastic time trying their range of sherries alongside some of the best charcuterie in my life.  It was pure heaven!
Now about their PX…Lustau's Pedro Ximénez  VORS comes from one cask selected from a Solera of six, set aside as a family reserve in the 1930's.  This PX is a luscious, deep mahogany with aromas of dried prune, sultana and spicy fig.  Concentrated and Sweet, the finish on this wine goes on forever.
Now, last but not least is the Bodegas Hidalgo-La Gitana, one of the oldest, family owned bodegas in the Sherry triangle. In fact, the estate is now in its 7th generation of Hidalgo's running the bodega.  While the whole Hidalgo line-up is excellent, it is best known for its flagship wine, their Manzanilla La Gitana.  This is apparently the most popular Manzanilla world-wide and I can believe it.  I try to have this Manzanilla on-hand at home whenever possible as it is so versatile with food and in cooking.
Now back to PX…Hidalgo's Pedro Ximénez Triana VORS 30 is a top end example of PX.  Dark mahogany, densely concentrated, with tea, date and caramel aromas and Black plum, prune and treacle flavors on the palate. This wine has a persistent, long finish.
PX is fun to drink and when paired right, can really add to an evening with friends…or alone.  In addition, the high sugar and good acidity levels means that an open bottle can remain for several weeks in the refrigerator without going bad.  Not a bad deal.