While 2010 was "the best and the worst, with little in between," the story of 2011 seems to be quite the opposite; easy to drink, fruit forward vintage that is guaranteed to please—and for some, an outstanding vintage.  Already some in the German wine press are declaring the vintage to be in line with top vintages of prior centuries.
Michael Burgdorf of the Wegeler estate in the Rheingau described the vintage as a "cross between 2008 (acidity) and 2009 (ripeness)," which could be translated to mean a "classic vintage" combined with above average ripe fruit characteristics.  A classic vintage with above average ripeness means for delicious wines ready to be drunk now—not a bad thing by any standard and after tasting the vintage is how I am persuaded to describe 2011.
Nonetheless, I can't help but admit that I miss the highs offered by 2010, which I can only call a "wine geek" vintage, due to the über-high acidity and intense concentration.   However, what lovers of fine Burgundy know, and German wine drinkers of 2010 experienced; a few duds had to be drunk, along with some loss of tooth enamel, before that really "cool" bottle was found.   And of course, 2010 yields were extremely low.
At the Mainzer Weinbörse end of April, I found myself over and over writing about the very ripe white peach, apricot, citrus or pear flavors.  For me, the vintage, depending on the region, reminded me a little of 1997; very easy, ripe wines which seemed to have more tropical than ripe fruit notes as in 2011, but where the vintage embodied easy, fruity wines, harmonious wines, but minus acid-head levels, as in 2010.  All in all, 2011 is a vintage that screams to be drunk now, with not much thought for cellaring, except for the higher prädikat levels.
Most of the 2011s I tasted had good weight on the palate with more than a few estates harvesting their basic estate wines at Auslese degree ripeness levels.  Some producers I spoke with admitted to chapitalizing up to 5 degrees on their QbA wines to create a bit more body and offer consumers a distinguishable difference between their Estate and Kabinett wines.   This vintage was the first time I noticed the widespread use of native yeasts to some degree or other even for the dry wines, as the trend continues towards producing more natural wines.
The Growing Season
In 2011, wine makers from all over Germany's wine regions seemed universally very happy with the quality of the vintage.   The growing season in much of Germany got off to an early start with very warm, summer-like weather; many estates reporting record breaking early bud break dates.   While budding early can be a good sign, it can often end badly if the temperatures drop suddenly to freezing levels as often happens in early spring.   Sadly in 2011, growers' fear of a frost came to fruition when temperatures took a nose dive around the 3rd and 4th of May.
The frost had particularly devastating effect in Franken and Württemberg, with less damage, but still significant effect in Rheinhessen and the Pfalz.  Despite all this, most regions reported above average yields as compared to a 10 year average, according to the German Wine Institute. Only the Pfalz, Franken and Württemberg experienced below average yields due to their problems with the frost; Franken and Württemberg remained in line with the miniscule 2010 vintage yield levels.
The rest of spring continued with summer-like warm and dry weather across the regions, some areas almost a bit too dry and sunny.
The summer, in contrast, was cooler than normal and allowed the grapes to ripen slower and to develop more complex flavors.   Rain that was lacking in the spring finally came in June-July, with some areas receiving the right quantity of rain and others a bit too much.  For most areas, August proved to be sunnier and the rains more even, allowing for grapes to ripen nicely.  However, in parts of the Rheingau, heavy rains necessitated heavy selection in vineyards, particularly in areas with heavier soils, like in Hochheim.   Also, producers in the Pfalz reported of high humidity and the need to select in August.
On August 25-26th, a large hail storm hit hard in the Mosel, and peripherally in some other regions as in the northern part of the Pfalz.  The storm devastated yields particularly hard in areas of the middle Mosel, some estates reportedly losing half of their crop.  Luckily, the mostly dry, sunny weather in September and October helped keep the vineyards as healthy as possible leading into harvest and allowing further physiological ripeness to take place.
In summary, the growing period for 2011 was very uneven leading to early September, when an Indian summer ostensibly saved the vintage.   For most regions, September and October was relatively dry with warm summer-like weather that allowed for the physiological ripeness to take place after the combination of very warm and dry spring leading to a cool summer with some areas experiencing significant rain necessitating thorough selection in the vineyards.  All in all, 2011 has all the appearance of being a "classic" vintage, with good ripeness and acidity, well balanced and drinkable, but probably lacking the ability to go the long haul in the cellar.
Below is a listing of some of the estates I liked in 2011; many of which I have worked with personally over the years.  I wasn't able to taste all the VDP estates unfortunately, so the following list is incomplete.  I hope to update this as more tastings in the summer are scheduled.   Until then, zum wohl—Drink lots of German wine!­
­­­—————————————————————————–
Weingut Dr. F. Weins-Prüm, Mosel
2011 was a really solid vintage from Bert Selbach at Weins-Prüm.  Very ripe flavors of pear, mineral notes, soft acidity, and wonderful finesse were characteristics of the vintage at Bert's estate.  I especially liked the Wehlener Sonnenuhr Riesling Kabinett, the Graacher Domprobst Riesling Spätlese and the Graacher Himmelreich Riesling Spätlese Feinherb, but all were very good to excellent.
Weingut Reinhold Haart, Mosel
Another fine vintage for the Haart estate, the wines showed that typical cassis notes combined with a rich ripeness of tropical fruits flavors like mangos and pineapple.  In 2011, the wines at Haart's estate uniformly seemed to possess velvet silkiness and significant weight on the palate, of course due to the obvious high degree of ripeness attained.  I particularly liked the Ohligsberger Riesling Spätlese and the Goldtröpfchen wines were fine, as well.
Weingut Forstmeister Geltz-Zilliken, Saar
Dorothee Zilliken was very pleased with this vintage and I could see why.  As usual, the wines were very elegant, reflecting the minerality of their particular slate soil, this year dominated by flavors of juicy peach, pear and apple notes.  The wines are lean with laser precision and layers of fruit, most of the range is made with a combination of cultured and natural yeasts.  My favorite of the collection the Saarburger Alte Reben Riesling Trocken made from 42 year old vines.  Also, all the 2011 Rausch Erste Lage wines were excellent.
Weingut Gunderloch, Rheinhessen
The first harvest for the next generation, Johannes Hasselbach, went off without a hitch.  The wines were all well-balanced and really showed off their special "Roter Hang" terroir of iron rich red slate and clay.   As seems to be typical of the vintage, the range was well balanced, soft acidity and ripe juicy fruit flavors of mostly apricots and peach flavors.  I really liked the dry Rieslings from Nierstein and Nackenheim and the Rothenberg Spätlese and Auslese were stuffed with layers of juicy fruit and mineral notes.
On a side note, the Pettenthal and Rothenberg Riesling Grosses Gewächs have developed beautifully since I last tasted them; powerful, bright wines with a long future—Wow! I was lucky to be able to make a stop at the estate on a recent trip to Germany.  Pictures to follow.
Weingut Hans Wirsching, Franken
Despite the significant problems in the Franken in 2011, the end result were wines of clarity and power, at same time as great finesse—in short, some superb wines.  I particularly liked the Wirsching collection, which seemed to have layers of citrus, honey and mineral notes.  Wirsching not only managed to make stellar Rieslings in 2011, but some really fine Silvaner, Scheurebe and Weißer Burgunder (Pinot Blanc).  I particularly liked the Iphöfer Kronsberg Silvaner Trocken Alte Reben, the Julius-Echter-Berg Silvaner Grosses Gewächs and the Iphöfer Kronsberg Weißer Burgunder Kabinett Trocken.
They also introduced a new wine called "Sister Act" to celebrate the Wirsching Estate's direction by two sisters.  The wine is made from 100% Riesling using only wild native yeasts with time spent maturing in large oak barrels.  The vineyard where the grapes were sourced is over 40 years old, the final numbers for the wine coming in at 3.7 grams RS and 7.5 grams Acidity.   This is a fun wine, but also one with some real complexity, lemon zest, grapefruit and mineral notes.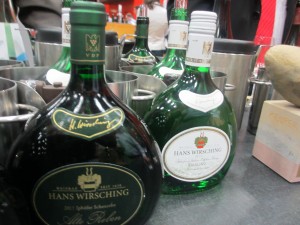 Weingut Künstler, Rheingau
You would never know that there was a significant amount of rain in August in Hochheim, the wines are that concentrated, often with apricot, spiced peach and mineral notes; I particularly like the Hochheimer Kirchenstück Riesling Kabinett trocken and the Hochheimer Hölle Riesling BA and Riesling Kabinett trocken.   All across the board, the collection from Künstler was solid, with some glimpses of true excellence in the 2011 collection, as mention from the Kirchenstück and Hölle, but also very good wines from the Rüdesheimer Berg Roseneck with the Riesling Spätlese.
On a side note, the 2010 Kostheimer Weiss Erd Riesling Erstes Gewächs is really developing nicely!   It will be interesting to see how this continues to develop, but in any event, the Weiss Erd vineyard is worth looking out for.  The soil comprises of white calcareous marl with the location of the vineyard south-facing and the altitude of 90 meters above sea level attracting very high levels of solar-radiation. This means that the grapes mature slowly over a long period of time while getting plenty of water and minerals.
Weingüter Geheimrat J. Wegeler, Rheingau
Great minerality and purity seem to define this vintage for Wegeler, especially with the aptly named "Pur" Riesling Kabinett feinherb, which made me think of the perfect wine for everyday to enjoy at home.  I also kept thinking about oysters…but, I digress!  On the fruity end of the spectrum, the Rüdesheimer Berg Rottland was decadent, with layers of red fruit, mango, peach and floral notes.  The Geisenheim Rothenberg Riesling Auslese was also another favorite of the collection in 2011.
Weingut Robert Weil, Rheingau
Year in year out, in bad vintages and good, Weil is one of the most consistent producers with a signature style that is remarkably consistent and identifiable even tasting blind.  All in all, 2011 was just another solid effort at Weil, which this year seemed to incorporate flavors of juicy pink grapefruit, lemon, nectarine and floral notes.  I liked the wines from Turmberg and Gräfenberg, particularly the dry wines and their spätleses and ausleses.
Weingut Friedrich Becker, Pfalz
2011 was high PH and relatively low acid vintage for Becker, and as such, like most producers across Germany, their wines are soft, fruity, with a high degree of concentration.   Both the Schweigener and Kalkgestin Weißer Burgunder showed great minerality and citrus notes, the Schweigener a bit less complex and more reductive due to its time in stainless steel.
My favorite white wine of the vintage from Becker was the Muskat Ottonel, due in part to its uniqueness and the high quality of its Muskat Ottonel, which is not often attained elsewhere.  Muskat Ottonel is a difficult to produce grape, susceptible to wet weather and oidium and mainly produces medium quality level wines.  However, when all goes well MO can produces luscious, complex late harvest wines.  From the Schweigner vineyard logging in at 25 grams RS and harvested at 95 Öe with no signs of botrytis, Becker produced a late harvest Muskat Ottonel that displayed a stunning combination of muskat, lychee, pear and chamomile flavors.   Part of the appeal of this wine may be that it was a fun diversion from all the Riesling, Pinot Blanc and Pinot Noir that I tasted at the Mainzer Weinbörse, but I like to think that it is the nature of muscat when it is made well that makes this wine so appealing.  And, it is always so fragrant and floral.  It pairs great with soft goat cheese and Asian cuisine.
The Pinot Noirs I tasted were all from 2009 and drinking really beautifully—2009 another very good vintage with relatively high acidity.  The whole range showed great depth, particularly the Kalkgestein and Steinwingert.
Weingut Reichsrat von Buhl, Pfalz
2011 was another solid vintage for von Buhl.  As in most years, I tend to be attracted to the wines of Pechstein, Jesuitengarten and Ungeheuer Forst and this vintage was not different for the later two…I have not had the chance to taste the 2011 Pechstein yet.  So, the Jesuitengarten Spätlese seems to display soft flavors of spicy apricot and peach marmalade and the Ungeheuer Forst Riesling Auslese naturally richer and more complex, with earthy flavors and mineral notes.
Not from the current vintage, but something worth looking out for, was the 2009 Forster Riesling Sekt Brut, I believe sourced from Pechstein, had peach, citrus and floral flavors.  Also, the 2010 Pechstein Riesling Grosses Gewächs, which is starting to integrate and become a harmonious wine, with lots of promise down the road for continued development.
Weingut Ökonomierat Rebholz, Pfalz
Overall, one of the best collections of wines I tasted at the VDP Mainzer Weinbörse.  The Rebholz wines universally showed purity, laser precision with a depth of fruit and mineral flavors that seemed to belie the winery's habit of vinifying to almost zero residual sugar.
The "Vom Muschelkalk" (Shell Limestone) Riesling S trocken was packed with citrus, white peach and mineral flavors while "Vom Rotliegenden" (Red Slate/Loess) showed wild strawberry, apricots and floral notes. The Muskateller trocken had all the floral and aromatic qualities associated with Muskateller, but without the bitterness that can accompany the grape when it is fermented dry.  The Grauer Burgunder and Weißer Burgunder were also typical Rebholz; weighty on the palate, layers of citrus and other fruit and mineral notes, complex and well balanced.
I particularly like the 2009 Vom Muschelkalk Spätburgunder (Pinot Noir) which had some black and red fruits; red plums, raspberries and black cherry flavors.
Perhaps my favorite wine from the collection (disclaimer: I love sparkling wines!) was the 2007 Sekt, made from 100% Pinot Noir.   Sourced from a limestone/clay soil the wine was left an impressive 40 months on the lees.  As might be expected from this estate, no dosage was added.  This sparkling had all the elegance and biscuity complexity that one might expect from a top Blanc de Noir from champagne for significantly less money.  Unfortunately, this is not available in the UK, unlike their other wines.
Weingut Andreas Laible, Baden
Baden, the southern-most wine region produces some great dry wines from Pinot Noir, Pinot Gris, Riesling and Pinot Blanc.  Laible is a great example of the best this region can offer with particular strength on their white wines.   Across the range, their white wines were very good to excellent; very weighty on the palate with concentrated citrus flavors, primarily.  I particularly like the Durbacher Plauelrain Riesling Spätlese trocken and the Durbacher Plauelrain Weißer Burgunder Spätlese trocken.   The 2010 Durbacher Plauelrain Spätburgunder Spätlese trocken further demonstrated what I liked about 2010; concentration of red fruit flavors, the back bone of acidity, finesse, yet power.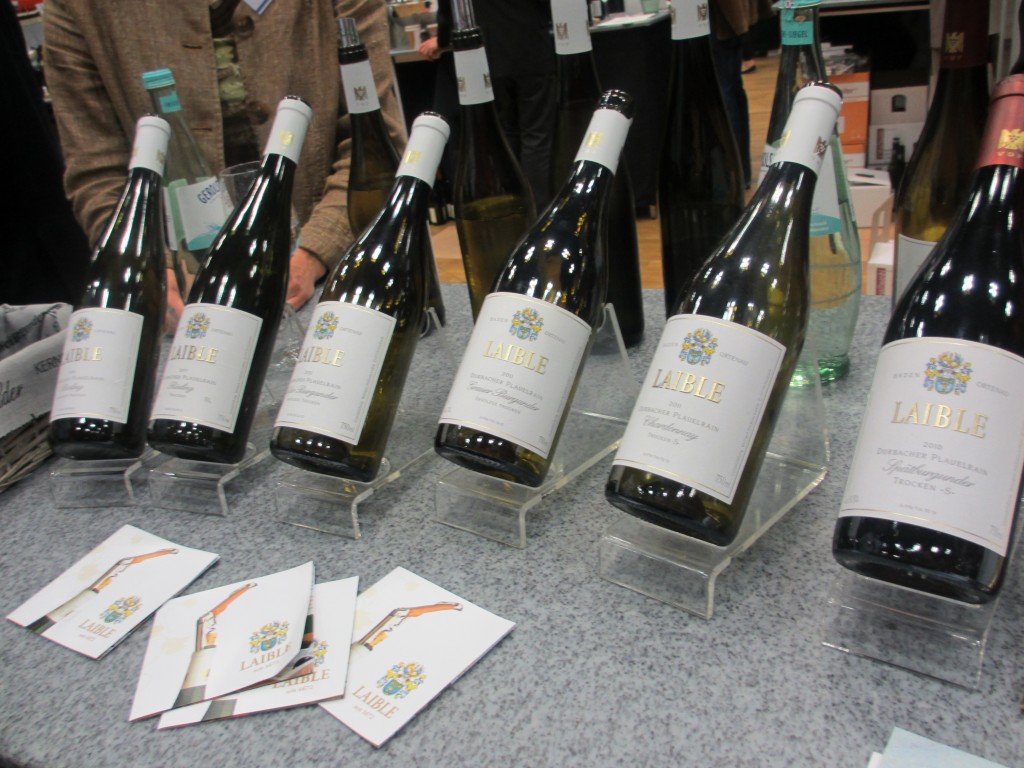 Weingut Bernhard Huber, Baden
This estate is one of the top producers of Pinot Noir in Germany, if not the top producer.  I had the opportunity to recently taste a range of their Pinots from 2009 and 2010.  Everything from the Malterdinger, Wildenstein to their grosses gewächs Beinenberg to Sommerhalde were excellent, while the wines will benefit from further development in bottle.  While they are known for their Pinot Noir, the whites were also very good. I especially liked the Bienenberg Grauer Burgunder Grosses Gewächs.
Weingut Kreuzberg, Ahr
In addition to being one of Germany's smallest regions and northernmost wine regions in Europe, the Ahr has a relatively small amount of top producers, currently a bit more than a handful in the region.  So, it is not surprising that wines from the Ahr are not very prevalent outside of Germany.  Of course, the lack of awareness abroad that Germany can produce world-class Pinot Noir, the Ahr's specialty, and the price tag of most top Pinots from this region conspire to make the wines from this region a "best kept secret."
Weingut Kreuzberg produces some compelling wine and has consistently rated well among wine critics; in 2011 winning the prestigious "Collection of the Year" from Feinschmecker magazine.  The Kreuzberg Cuvee Noir trocken is a fun blend of Dornfelder and Portugieser, light and flavorful, similar to a gamay or cannonau from Sardinia in weight and flavor profile.  I really liked the 2010 Devonschiefer Spätburgunder trocken and the Sonnenberg Spätburgunder Grosses Gewächs; both reflecting their respective terroirs with great elegance.
I especially liked Kreuzberg's Frühburgunder, an early ripening mutation of Pinot Noir.  I was able to taste both the 2011 and 2010 vintages.  The 2011 was lighter and less complex than the 2010, as might be expected.  The 2010 was soft and velvety, but offered a depth that the 2011 lacked, lots of brambly black raspberry and red plum notes.