More on German Riesling, and more precisely, the wines of the Rheingau region…The Great Rheingau Riesling Review 2012 was in London the 6th of September and tasting the wines again and finally the Grosses Gewächs from 2011 only solidified my prior impression that the vintage is a classic Riesling vintage.  The wines are soft, fruity and easy to understand.
It was particularly exciting to taste some "blasts from the past," some Prädikat level wines from '10, '08, '03 and '02 to as far back as a 1959 TBA!  It was a wonderful way to be reminded of how magically German Riesling can develop over time.
Below are just some highlights from the tasting…
Weingut Joachim Flick
The tasting started with the wines of Joachim Flick.   Both 2011 estate Rieslings from monopoles Königen Victoriaberg and Nonnberg showed typicity of terroir; the Victoriaberg showed peach and notes of wild strawberry, while Nonnberg showed mostly apricots and peach.  But, what were perhaps amongst the most impressive offerings of the day were some of their slightly older wines, namely the 2010 Victoriaberg Spätlese and Auslese, the 1999 Victoriaberg Auslese and the very unique 2003 Hochheimer Hölle Riesling TBA.
The 2003 TBA was made from completely healthy grapes—unbelievable!  If this is any indication of how other top 2003s are drinking it will validate Rudi Wiest, a long time US importer of top German wines (and ex-employer) who went against most all wine critics by declaring it an outstanding vintage with exceptional age-ability.  Logging in at 230 Öe, 302 g/ltr of residual sugar the wine was bright, clear, amber in color with flavors of dried apricots and peaches, honey and a waft of caramel notes.  The most incredible aspect of the wine was how clean the wine was with still lively frame of acidity—truly unique and quite unheard of to have a TBA without botrytis, but again, 2003 was far from the norm.
The 2010 Victoriaberg Riesling Spätlese had a lot of spice, some honey notes, flavors of apricots and peach with a long minerally finish.  The 2010 Victoriaberg Riesling Auslese seemed almost lean on the palate despite being harvested at 145 Öe and logging in at 200 grams of residual sugar and has some white peach and mineral notes.
Kloster Eberbach
The movie The Name of the Rose was filmed at Kloster Eberbach and it is really hard to not connect that romantic image of the stunning vineyards and the impressive ancient monastery with the wine produced here.   But, while the range of 2011s are technically correct what grabbed my attention was the 1959 Steinberger Riesling TBA.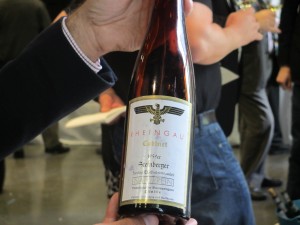 The color is clear and bright Amber with the aromas of crème brulee and dried stone fruits.  On the palate, the wine is laced with flavors of dried apricots, slight waft of orange marmalade and honey ending with some subtle caramel, toffee, mineral notes.  Still lively with lingering acidity, it is a great reminder of why Riesling was at one time a favorite in many of the royal courts of Europe.
Balthasar Ress
My first exposure to Balthasar Ress started circa 1994 when I was looking to start an import/distribution company and was looking for exceptional German wines.  I can't remember what happened, except through the years I seem to recall having periodically tasted the range of wines when I had the opportunity.  I don't know where I have been, but most of the wines on display were very good to excellent.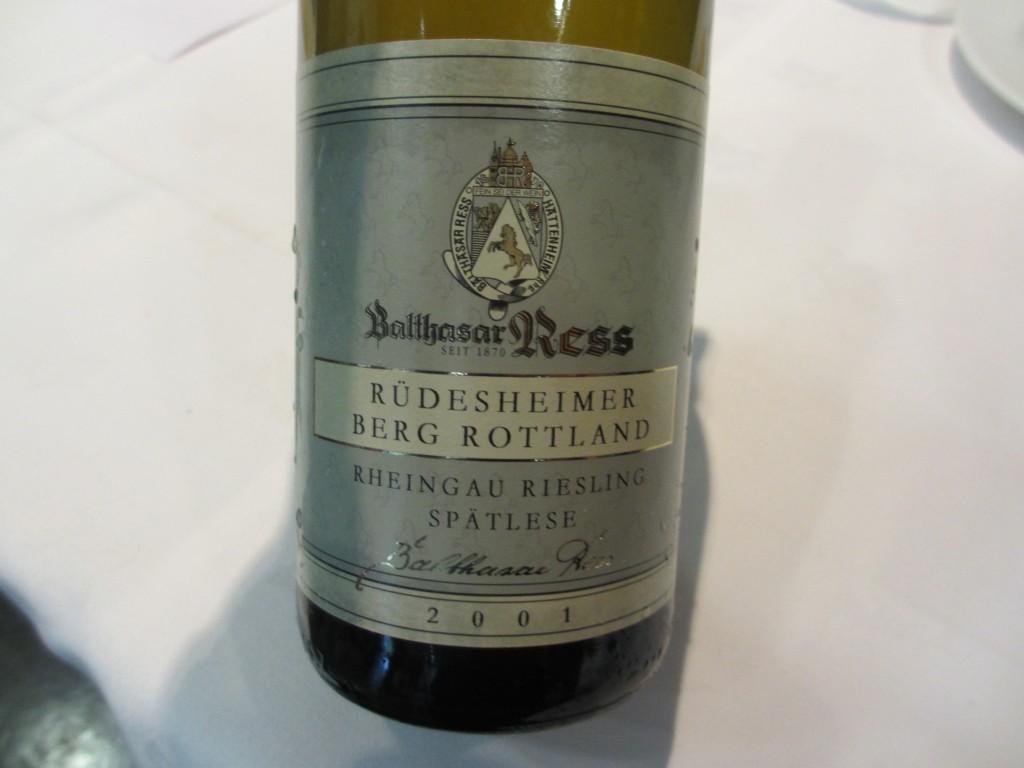 The 2011 Von Unserm Rheingau Riesling Trocken showed itself to be a well-made estate dry Riesling with citrus, lemon zest and mineral notes.  The two 2001 vintage wines from the Rüdesheim Berg Schlossberg, one a dry estate Riesling and the other a Riesling spätlese; the estate Riesling showing some secondary fruit aromas and flavors and the spätlese dense with tropical fruit flavors.
Weingüter Geheimrat Wegeler
Despite working several years with this estate in the US market, part of that time representing the US importer in a quarter of the US market, I never knew that Wegeler produced a Geheimrat "J" Riesling Sekt Brut.   The still "J" has always been a favorite of mine and recently I had the opportunity to taste some of the 2002 I had "improving" in my cellar and was reminded again why I liked it so much…
Needless to say, the "J" Sekt is as good as the still version.  Left for three years on the lees with a dosage of 6.5 grams of residual sugar, the still wine was blended with a touch of '93 Riesling Auslese to give it some added complexity.   The end result is a very elegant almost creamy sparkler, brioche, lemon and apricot and a long minerally finish.
I already posted some about the 2011 from this estate after the Mainzer Weinbörse, but wanted to write about some of the older wines ad a bit more about their 2011 Berg Rottland Spätlese.  So, as follows…
The 2000 Geheimrat "J" Riesling Spätlese trocken had perfect integration of fruit and acidity with all the added complexity of an older Riesling, now showing custard and citrus flavors.  The 2008 version of this wine has more primary fruit flavors, citrus flavors like grapefruit, lemon zest and stone fruit.
The 2011 Rüdesheimer Berg Rottland Riesling Spätlese was harvested at 110 Öe and with 100 grams of sugar/liter, this wine is luscious with lots of layers of juicy pink grapefruit, clementines, red fruit and spice, very dense the finish keeps going.
The 2010 Geisenheimer Rothenberg Riesling BA is a real heavy hitter, luscious as it is from 100% botrytized grapes, but its power is masked by the very high level of acidity which logs in at 13.1% grams per liter.  Mineral, honey, nectarine, pineapple and lemon, electrifying finish that keeps going.
Weingut Robert Weil
I tasted through the collection at the Mainzer Weinbörse but was finally able to taste the just released Gräfenberg Riesling Erstes Gewächs and a lovely Gräfenberg Riesling Spätlese from the 2002 vintage.
The Erstes Gewächs showed some signs for tropical flavors and citrus fruit flavors and as usual for Gräfenberg is loaded with minerality.
The 2002 Gräfenberg Riesling Spätlese was outstanding; a perfect balance of fruit and acidity, still primary fruit flavors, some of the mango and papaya that seem to be typical of this vineyard but showing some signs of development, some custard apple notes ending with a long minerally finish.
Weingut Künstler
This is my second time in tasting through most of the 2011 collection, along with some other vintages.  Very classic Künstler except that I noticed this time around that the most of the 2011 dry Riesling are drier than normal for him, between 4-6 grams sugar.   While some almost appear austere right now, the 2011 Berg Rottland Riesling Erstes Gewächs is extremely concentrated, stuffed with wild strawberry and some pink grapefruit flavors.  This should be interesting to revisit in a year or so when it will be more forthcoming.
Tasting the 1992 Charta Riesling from Hochheimer Hölle  (I haven't seen a Charta wine in an age) was another blast from the past as I remember selling that vintage and some being somewhat skeptical, most thought it was a good, not outstanding vintage that produced a classic style Riesling.  This wine 20 years on is incredibly fresh and bright, harvested at 97 Öe, 8.3 grams acidity and with 13.5 grams residual sugar it is has great mineral acidity and finish that keeps going.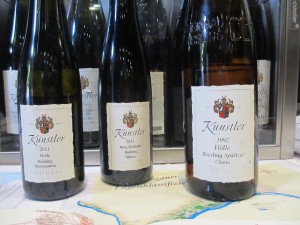 Summary:
The take-away from this tasting seems to be a reminder of how German Riesling really can age.  Riesling is, in fact, one of the most age-able wines around.  Higher Prädikat level wines such as Auslese, BA and TBA can go on for decades, losing their primary fruity characteristics but becoming far more interesting and compelling with age as was a clear reminder from this tasting.