Karthäuserhof is one of the top producer's in Germany; arguably making some of country's top dry and noble sweet wines.  But, Karthäuserhof is no flash in the pan.  Winemaking has had an extremely long tradition at this estate, a history that goes back many hundreds of years.  In fact, artifacts have been found on the premises that indicate wine production took place during the Roman times and records describe wine production on the estate as early as 1223.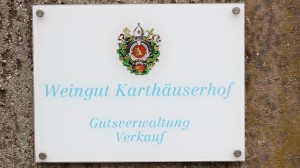 The name Karthäuserhof comes from the word Karthäuser, which refers to the Carthusian monks who worked and owned the estate from 1335 to 1803.  As a result of the Peace of Luneville, negotiated by Bonaparte and Talleyrand, properties all over Germany were secularized, or were taken away from the religious orders who had prior ownership.  As a result, in 1803, the French took possession of the Karthäuserhof estate.
In 1811, Valentin Leonardy, the first generation of the family currently running Karthäuserhof, acquired the property at an auction in Paris.  It wasn't until Valentin's grandson, Wilhelm Rautenstrauch, however, that Karthäuserhof started to develop a reputation for producing great wines.
In 1986, Christoph Tyrrell, the 6th generation, took over the estate. Under Christoph's direction, the estate has come to produce truly world class wines, having been selected as Producer of the Year in 1997 by Feinschmecker Magazine and in 2005 by Gault-Millau.  After 16 years at the helm, ownership was transferred within the family to Christoph's cousin, Albert Behler in 2012.
Vital Statistics:
·         Christian Vogt is the winemaker and manages the cellar.
·         The Karthäuserhofberg is a monopole vineyard made up of a decomposed Devon slate soil and is planted 90% to Riesling and 10% to Pinot Blanc, average vine age 35 years. 
·         The estate produces 12,000 cases from 19 hectares of vineyard with a breakdown of 85% dry and 15% sweet.
·         The estate uses a combination cultured and wild yeasts.