Along with the premium food, boutique wine and micro-distilling movements has been the development of a premium soft drink and mixer category.  What a joy! Finally high quality mixers to go with the newly available super premium spirits.
It is comforting to know that when going out with friends, there doesn't have to be a compromise on flavor, especially when going the evening alcohol free and the "mixer" or sparkling fruit drink suddenly becomes the focal point.  With drink-driving limits constantly dropping and that seemingly constant battle of the bulge that puts empty high calorie drinks in the crosshairs, a night on the town can seem like an exercise in temptation with no upside.
Now, consumers can find everything from organic, all natural beverages, with a variation of sweet to low sugar and no sugar options.  Best, the variety of options and flavors abound.
Tonic Water
Today, there are plenty of tonic waters on the market fitting a variety of price points, calorie counts and natural or not so natural ingredient lists.  The real beauty of tonic water is that it is flavorful alone.  And better still, whether you are at a social function or a business one, no one really needs to know whether you are "drinking" or not.
The new "slimline" or diet versions that can range from 0 calories to up to 23 calories for 200 ml mean that you can get all the flavor without unneeded calories at a range of price points.
On the premium end of the range, the Fentimans Light Tonic Water is big on bold, botanical flavors and light on the calories.  Made with sugar and a combination of Quinine, Lemongrass, kaffir lime leave and Juniper berries there are just 23 calories per 200 ml or 7 ounces.  Together with gin, this makes a sublime gin and tonic.  On its own, it is delicious and refreshing.
Q Tonic Water is also a premium tonic water.  It is made with quinine sourced from the Peruvian Andes and sweetened with organic agave.   The sweetness perceives less on the palate than with other tonic waters on the market.  This tonic water's flavor had a heavier focus on quinine and had a creamy effervescence.  There are 25 calories per 5 oz serving.
A Cucumber Mixer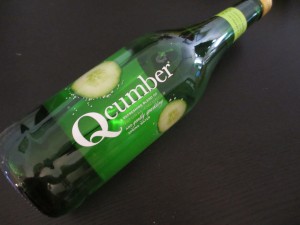 Qcumber, not to be confused with the company who produces Q Drinks Company's Tonic Water listed above, is a cucumber flavored sparkling drink, made from all natural ingredients.  Sucrose is the sweetener here.  All in, there are about 67 calories in every 250 ml portion.  If you like cucumber, this drink is for you.  It captures the essence of cucumber and is great alone or as a mixer.  As there are no preservatives here, Qcumber needs to be consumed within 3 days of opening.
Non-Alcoholic Fruit Press Drinks
If you are in the mood for a fruit cocktail drink minus the alcohol,  Cawston Press makes some amazing sparkling fruit drinks.  Their drinks are not from concentrate, but are made uniquely from pressed fruit.  Cawston doesn't use artificial sweeteners or preservatives.
The Apple Rhubarb tastes so fresh, both sweet and tart, it is about 32 calories per 100ml.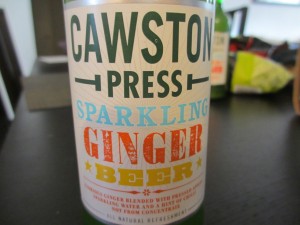 The Cawston Press Sparkling Ginger Beer perceives a touch sweeter on the palate than the Apple Rhubarb and has 34 calories per 100 ml.  Simply made with pressed apple juice, lemon juice, ginger and chili extracts, this is a great take on a classic.