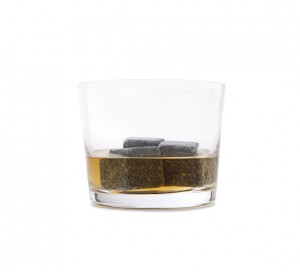 Have a friend who is a Whisky aficionado and don't know what to get him/her? Or, are you looking for something to add to your own Whisky experience?  Whisky Stones are a modern take on an old Scandinavian tradition whereby cold stones are used to chill down the temperature of spirits.
co-Founder Andrew Hellman came up with the idea of making Whisky Stones after he found a bag of loose stones in his own grandfather's liquor cabinett and learned the tradition of how they were used to chill down alcohol.
Whisky Stones are handcrafted in Vermont from soapstone by the Vermont Soapstone company, one of America's oldest soapstone workshops in the country. Soapstone, a talc-schist comprised mostly of the mineral talc has the benefit of being flavor neutral, non-absorbent, and can retain either heat or cold for a relatively long period of time.  The stones are light weight with no sharp edges, so drinkers don't have to be afraid of the stones damaging their glasses.