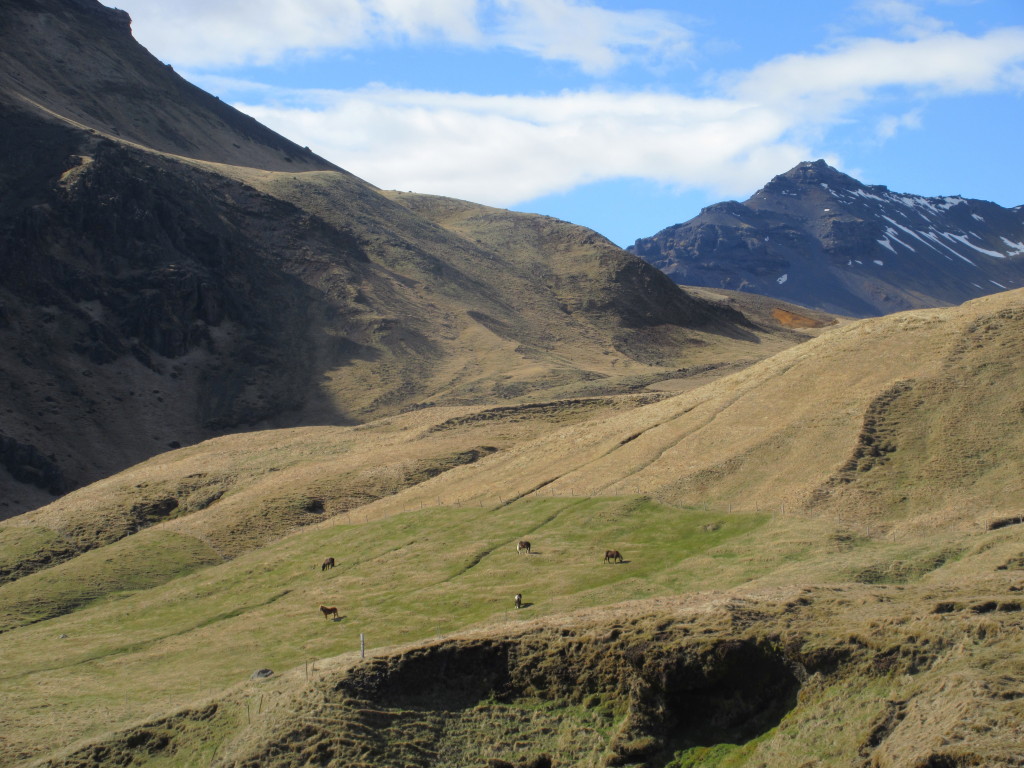 Stepping off the plane and onto the tarmac, I was enveloped by the purest air that I had ever breathed. It was as if the constant stream of exhaust emitting from the multitude of commercial planes taking off and landing were fully contained in invisible bubbles.
Iceland–that one word seems to convey a feeling of purity.  Inhospitable, but starkly beautiful, Iceland is a land littered with glacier-covered mountain tops, waterfalls, rivers, lakes,  geysers and thermal pools.
The size of Kentucky or South Korea, Iceland is defined by its active volcanic systems that on one hand, provide cheap geothermal energy to its residents, But on the other hand, poses a very real threat to the lives of its roughly 334,000 inhabitants.  In fact, the historic volcanic eruption of 1783 was responsible for killing a fifth of Iceland's population.
Iceland seems to be a place where nature both brutally gives and takes. The romantic side of me conjures up images of Vikings, the original settlers of this inhospitable land located just outside the Arctic Circle. Independent,  fearless and individualistic, from a bygone era where forcefully seizing life, and in many instances, your future bride, was just how things were done.
In some ways it is still possible to envision that time.  The people of Iceland today are the result of those initial settlers and the Icelandic language hasn't evolved much since the ninth or tenth century when Iceland was first founded.
So, you are probably wondering what this has to do with wine or spirits…or food, even?  I'm getting there.
The clean purity of the waters mean that the fish are some of the best you will eat.  Anywhere.  Icelanders are rightfully proud of their pristine environment and glacier sourced water.  And as a result, they are able to leverage this asset in their beers, whiskies and liquor production, not to mention Icelandic foodstuffs.
In their quest for food independence, green houses along with geothermal technology are used to provide nutritious, pesticide and GMO free produce and spices for residents and export markets alike.  In fact, many of the distilleries are operated using only geothermal energy.  How is that for a zero carbon footprint? Bottom line, although you will pay a pretty penny for the privilege, you will eat some of the highest quality food obtainable anywhere in the world here in Iceland.
Case in point, my first meal in the country was at one of Reykjavek's top restaurants, the Fridrik V. The five course tasting menu changes constantly, reflecting the availability of the freshest of ingredients.   Below are pictures without comment, after all, a picture says a thousand words.  Needless, to say, it was topnotch and a uniquely Icelandic experience.
That brings me to the Scandinavian tradition of aquavits and other botanical infused liquors.  Here in Iceland, there are a few distillers producing interesting liquors using Icelandic botanicals or Icelandic fruit.  The most commonly available of such spirits seems to come from Foss Distillery, whose focus is in using birch sap along with adding birch twigs to their spirits for final maceration in the bottle.
The first liquor I tasted was Foss's Björk liqueur.  Made from distilled grain spirit infused with Icelandic birch and finished off with a touch of its native birch syrup with added sugar. Clocking in at 27.5% this liqueur is quite sweet.  It would make a great addition to a cocktail.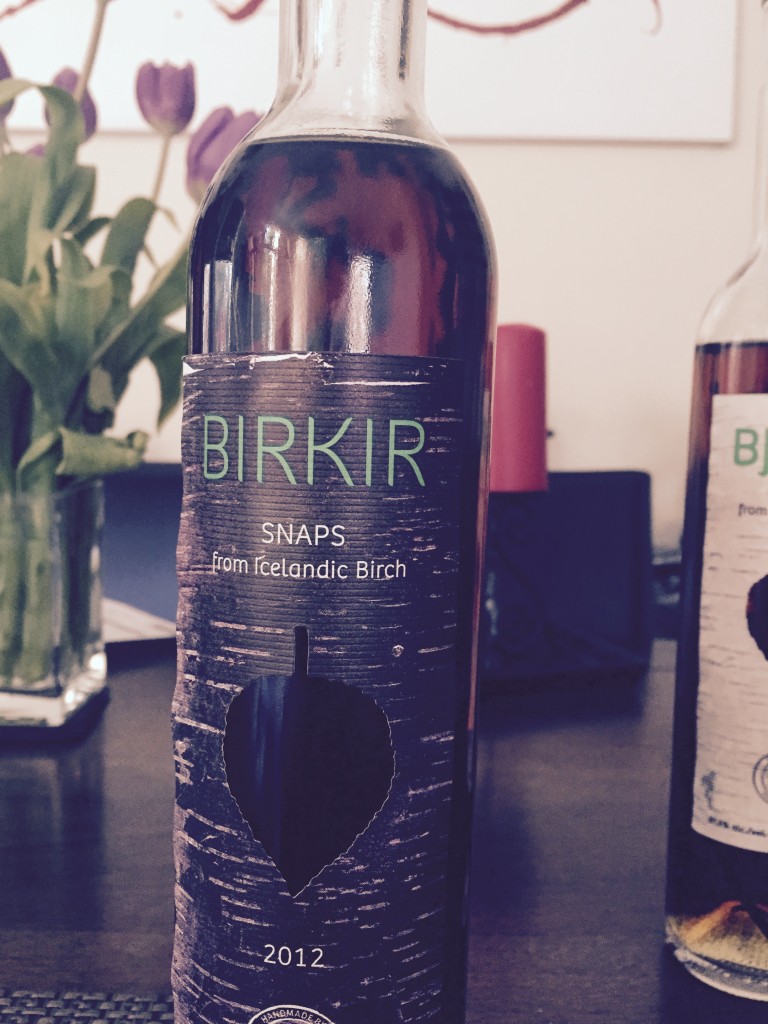 Foss's Birkir has nice viscosity, is nutty with just a whiff of cocoa powder alongside a woodiness imparted by the Birch twig left macerating in the bottle.  Finishing with just a perceptible amount of sweetness on the palate, this is delicious on the rocks or as part of a cocktail.
Micro-distillery 64° Reykjavik Distillery has a line-up of interesting Aquavits and liquors.  One of their liquors is made with Crowberries, an Arctic berry. Their motto is to "use the very best seasonal ingredients; unspoiled and pure - steeped in Icelandic tradition – purify and distill those incredible flavours utilising renewable energy and crystal clear glacial water. Bottle them, and package beautifully."
I have only been able to taste the Brennivin Akevitt or Aquavit.  Some light anise and caraway flavors, light pale lemon color.
Flóki Young Malt comes from organic Icelandic barley grown in volcanic soil at the Artic circle.  This is young and a bit sharp, but interesting…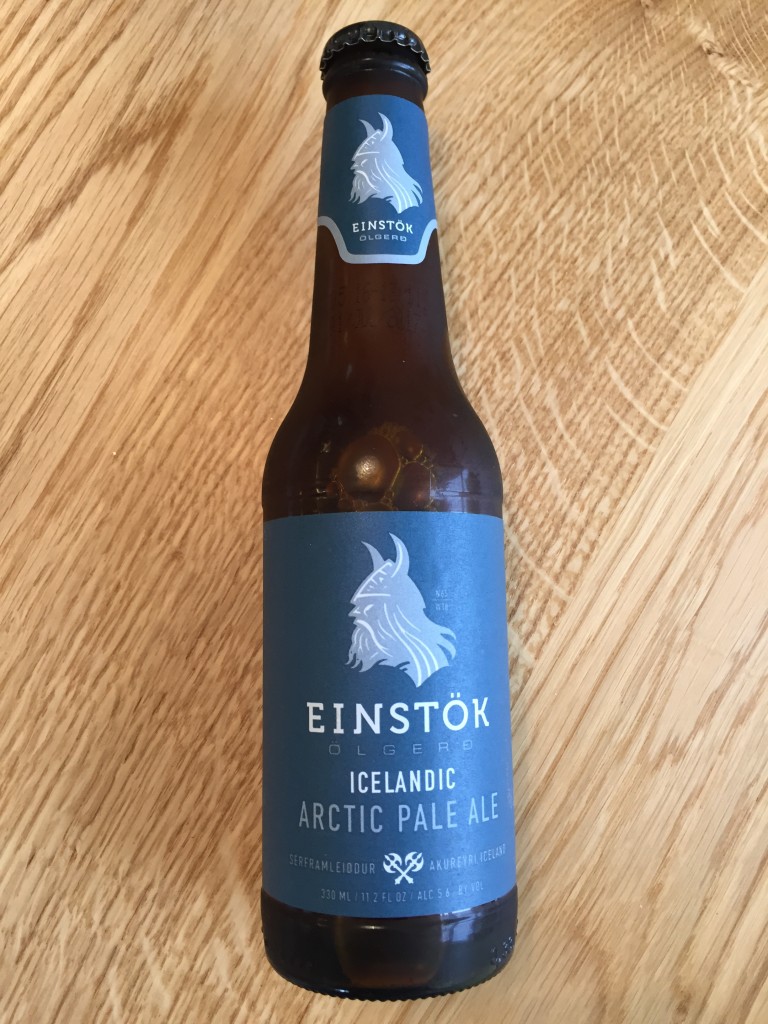 I really like the Einstok Pale Ale, probably because it is light and crisp with some maltiness, but not too much.  This brewery blends a mix of American and European influences along with great Icelandic water to create this thirst quenching beer.  It is astonishing to know that until 1989, beer was illegal in Iceland!
For fun, I made a small video with some of the pictures and video I took when I was touring around Southern Iceland.  The dog in the video is Ozzy, the only Portuguese Water dog in Iceland.
Iceland is a very unique and beautiful place and definitely worth a visit!