Time flies when you're having fun, so the saying goes.  It's hard to believe that I tasted my first South African wine circa 1996–It seems just like yesterday.  Back in those days, South African wines were just barely hitting the shelves in the US market and there seemed to be a certain amount of mystery surrounding these wines. No one seemed to know much.
As might be expected, I was excited to have my first taste of South African vino.  And one day, the occasion finally arrived, my chance for a taste!  An importer new to the wine business, looking for distribution into my market was keen to taste me on his prized Pinotage, a cross of Pinot Noir and Cinsault.
My first taste of Pinotage that day was surprising…and shocking, but not in a good way. The wine in question came from a cooperative and the importer unabashedly admitted that the wine racked in at above 15.5% alcohol!   I should have been prepared for the unbelievable hotness of the wine, but nothing could've prepared me for the funky medicinal, banana-ish, nail varnish flavors that I came to learn later were characteristic of poorly made Pinotage.
Thankfully, times have changed, and in the meantime, South African wine producers have learned how to hone the unique South African terroir using world class wine-making techniques.  The wines are often well-balanced with good fruit and acidity and best still, South African wines offer a big bang for the buck. These wines are commonly featured on restaurant, wine bar and pub by-the-glass menus due to the obvious value offered in terms of its quality/price ratio.
At the recent Intrepid Tasting, a tasting featuring only the wines of South Africa, I was lucky enough to taste some very interesting wines from some, perhaps, lesser-known, boutique producers.
I stumbled upon Eikendal Vineyard's wines and was happy to taste a whole range of interesting, very well-made wines.  The one that stuck in my mind was the 2015 "Janina" Unwooded Chardonnay, probably because it was both well-made and very reasonably priced.  I often wish I could go to more restaurants and find a wine like this by the glass. From Stellenbosh, it has rich flavors of pineapple, mango and peach finishing on limey mineral notes.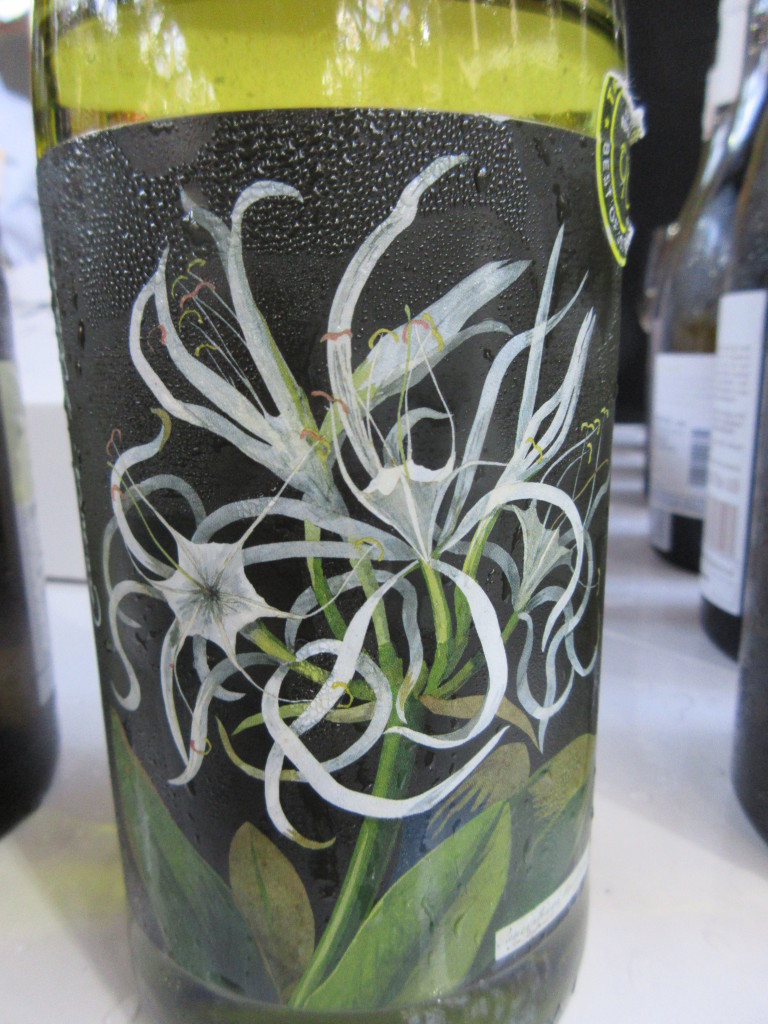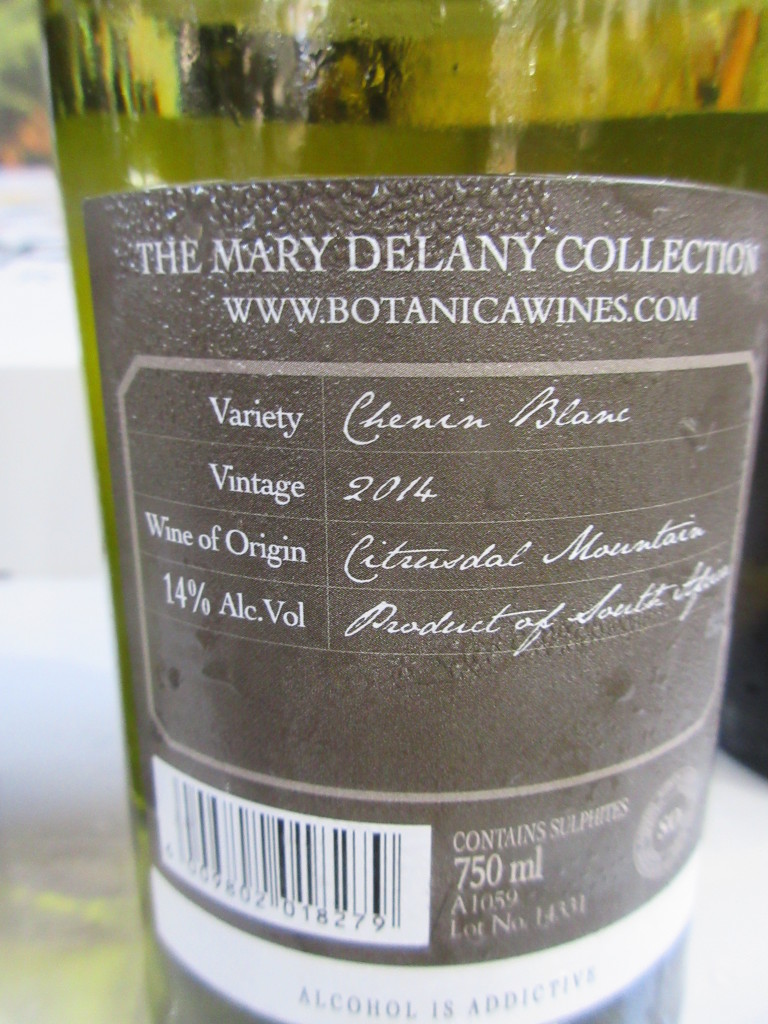 Next, I found a fellow-American who recently purchased a wine farm in South Africa and started producing a range of wines.  I really liked the Straw Wine and her Chenin Blanc, in particular.  Her Botanica 2014 Chenin Blanc is lean, citrus, quince and finishes on a lightly flinty mineral note. Perfect to hangout on the porch and drink with friends and serious enough to pair with top end food.  The cool labels were created by incorporating collages painted by British artist Mary Delany in the late 1700′s.  It's nice being able to appreciate artistry both in the bottle and on the outside of it.
Next up, is Thorne Daughter's 2015 Old Vine Semillion.  This wine exhibits stone fruit aromas of peach and nectarine.  Weighty on the palate and filled with notes of apricot and honey it is intriguing now, but I wonder what it will taste like in 12-18 months.
Soms-Delta Amalie is a white wine blend of Viognier and Grenache Blanc. The Grenache Blanc grapes are desiccated on the vine following an ancient Greek practice that concentrates color and flavors. The Viognier was sourced from six different sites to achieve a complex flavor profile. Both grape varieties were fermented and matured separately in new French oak barrels for a slow fermentation and extended lees maturation, and were blended prior to bottling. Amalie has intense fruit flavors of tangerine, honeysuckle, vanilla, layers of complexity and a well-integrated tannic structure and lingering finish.
Solms-Delta's 2015 Rose is made up of mostly Grenache Noir 97% and a touch of Cinsault 3% Style of Wine this dry rose is like a bowl of fruit freshly picked at peak ripeness in summer, with raspberry, strawberry and a touch of green apple on the finish. This Rose has a beautiful  pink- salmon color that reminds me of one of my favorite Rose Champagnes.
Now, back to South Africa's famous Pinotage.  Eikendol Vineyard makes a lighter more delicate version of Pinotage.  It's 2015 vintage is made from Pinotage sourced in Stellenbosch from a non-irrigated, 20 year old vineyard comprised of decomposed granite and koffie klip'. Aged for 12 months in Burgundian and this wine is more pinot noir-like and refined compared to many other Pinotages that display a more muscular flavor profile.  This wine is light and fragrant, red currants, wild strawberries and black raspberries.
The Bernard Series Bush Vine Pinotage on the other hand is a heavier, more alpha male version of Pinotage, but also enjoyable, nonetheless.
Rich, and packed with toasty vanilla, red and black plums, black cherries, black berries and a touch of chocolate and a bit of spicy notes, this is a heavy, full-bodied wine that must pair with game and red meat very well.
The Bernard Series Basket Press Syrah is made up of a blend of Syrah (98%) and Viogner (2%) this wine is an aromatic wine with hints of mulberry, dark chocolate and a black raspberry and violet on the palate.  Another great food wine for the BBQ or Braai.

Deux Freres is a small family owned winery located on the foothills of the Simonsberg Mountain in Stellenbosch and run by brothers Retief and Stephan du Toit.  The brothers focus is in producing quality wines that reflect their unique terroir. With their wine "Liberte," a blend of Cabernet and Petit Verdot, they have managed to create a wine that is lush and velvety at the same time as having plenty of backbone to carry the fruit.  This Bordeaux style blend has plenty of flavor; I got lots of black plum, black cherry, current, cocoa and vanilla flavors on the palate.  Their Shiraz/Mourvedre blend and Blanc de Noir are worth exploring, too.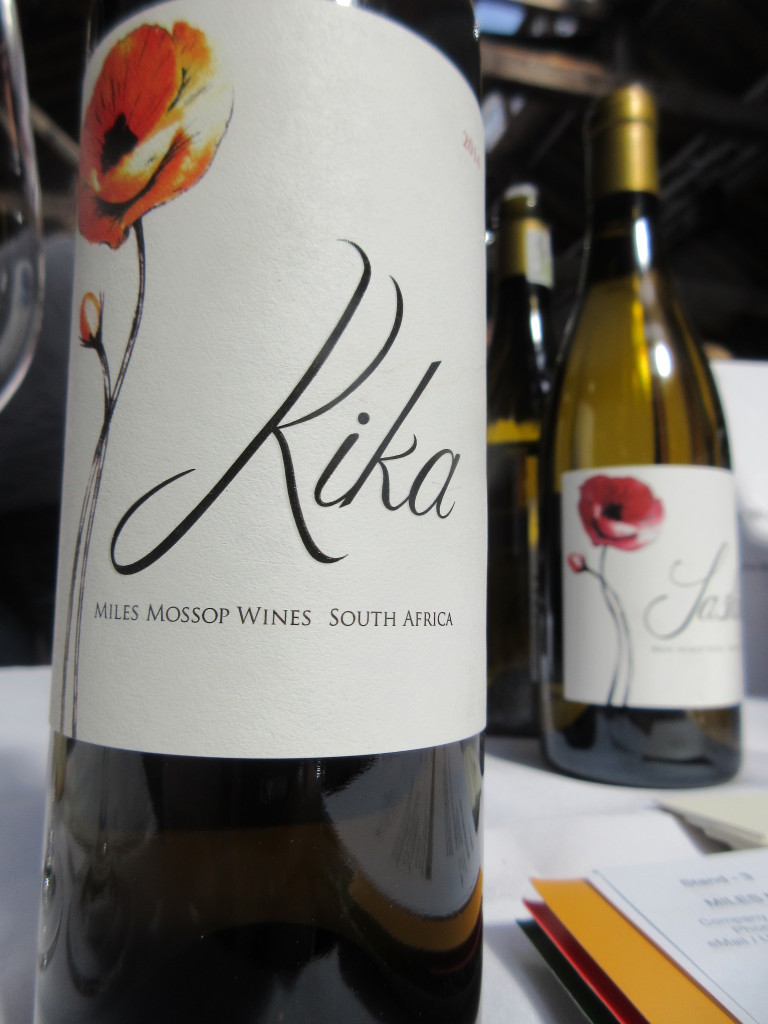 There has to be one "sticky" at any given tasting that grabs your attention and for me it was Miles Mossop's 2014 Kika Late Harvest Chenin Blanc. This is a decadent treat made with 100% botrytised Chenin Blanc.  A golden, viscous, sticky treat of liquid honey, orange blossoms, dried apricot, peach and almond flavors.  Harvested at about 42 Brix/ this wine has about 147 g/l RS and 9.3 g/l Acidity, so although sweet, it has plenty of acidity to balance off the sugar.  Yum!