The 2014 vintage in Bordeaux started off choppy with variable cold and damp weather patterns, forcing winegrowers  to up their game in order to keep their vineyards both healthy and on track developmentally.  Luckily, as harvest approached, the weather stabilized  gracing winemakers with an above average warm Indian Summer that brought the fruit through to a good level physiological ripeness.   By all accounts, 2014 appears to be a solid vintage, not to the level of the much touted 2009 or 2010 vintages, but one that can nonetheless provide much drinking enjoyment.
It has been a few weeks since the release of the 2014 vintage Cru Bourgeois Bordeaux wines and the vintage includes  crus from 278 estates representing seven AOCs: Médoc, Haut-Médoc, Listrac-Médoc, Moulis, Margaux, Pauillac and Saint-Estèphe .  The wines have robust colors, firm tannins, balanced by primary black and red fruit flavors on the palate.  The concentration and tannins present indicate wines that have some ageability with some wines are already showing finesse.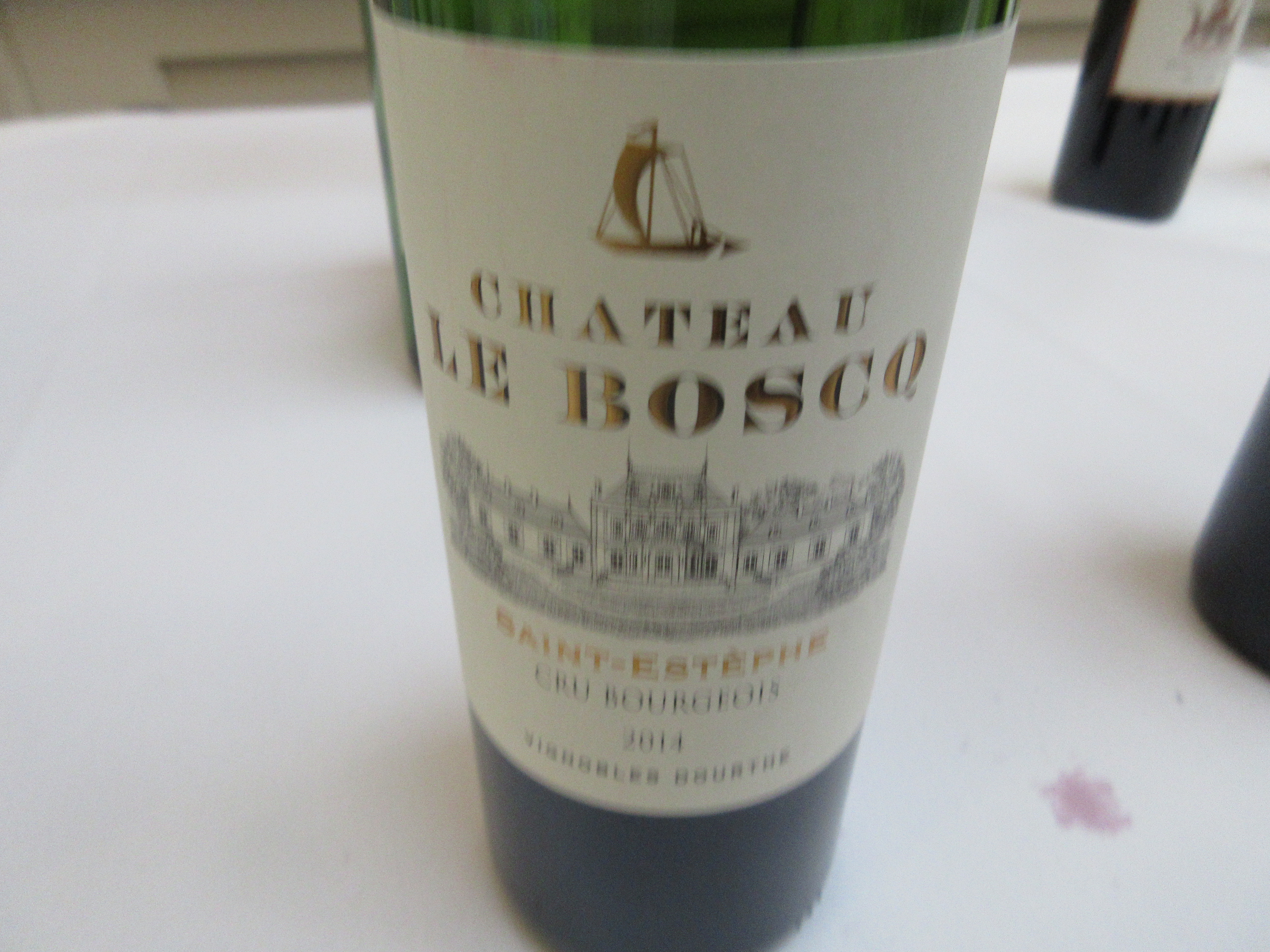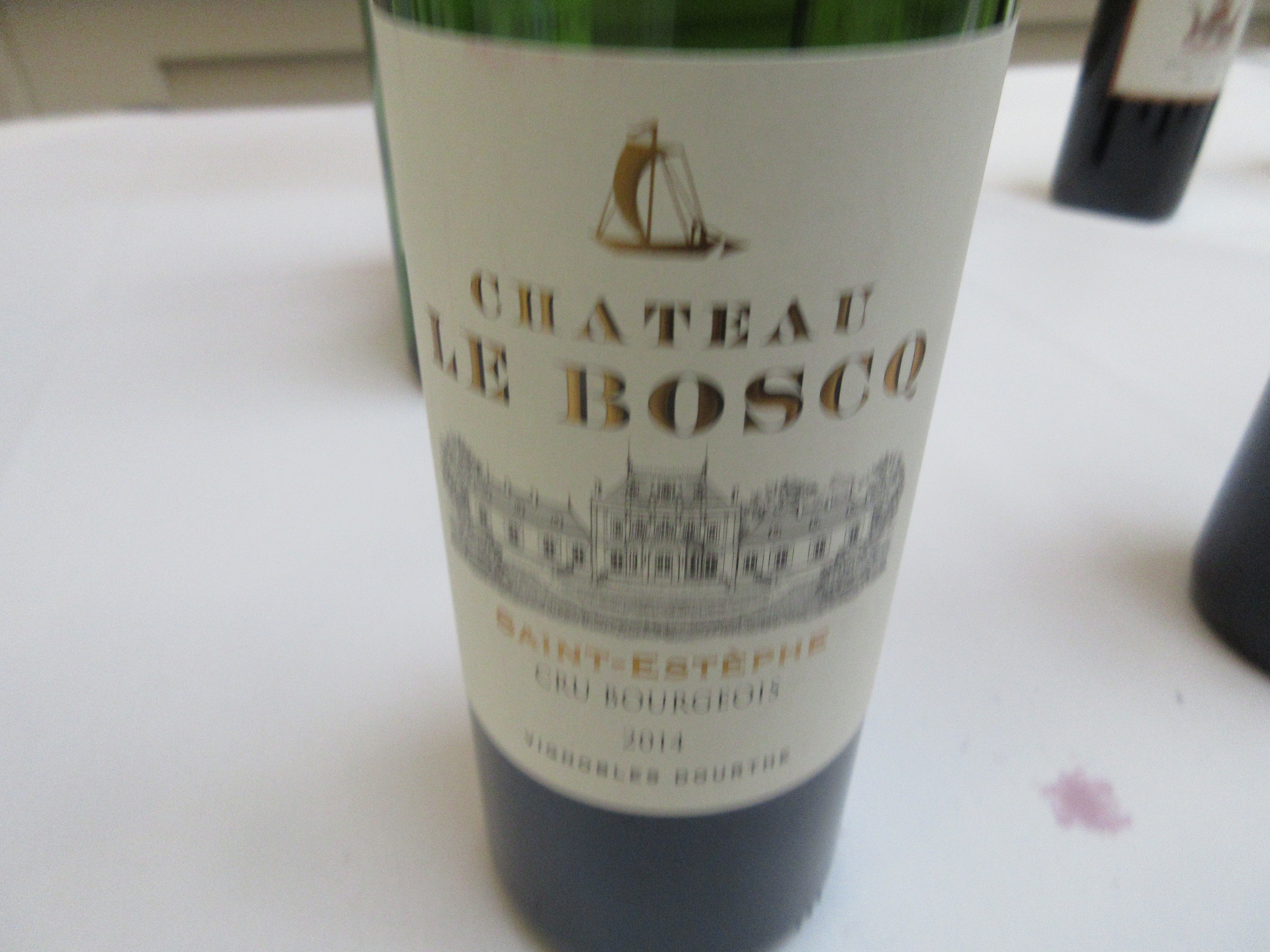 There are a few different classifications of Bordeaux wines, so it is interesting to take a step back to look at the history of the Cru Bourgeois classification to understand the wines better.  The origins of Cru Bourgeois dates back to the Middle Ages and Bourg, a town in the Bordeaux region.  Bourg was the home of many of the Bordeaux wine region's wine merchants and vineyard owners.   During the period of English rule, the Bourgeois were given special privileges and rights including tax exempt status on the sale of their wines.   Enriched by international trade, by the fifteenth century, the rich Bourgeois bought the best properties in the region and thus earning the name "Crus des Bourgeois."
The intervening centuries marked by the French Revolution, the classification of 1855, the First World War and the Great Depression all impacted  the Crus Bourgeois wines in some fashion or other.  War inevitably caused disruptions in their local and export markets and sometimes the removal of preferential tax statuses.   And, the 1855 classification incorporated some of the Crus Bourgeois, listing 248 different chateaux mostly considered just a bit below the cru classes.  Nonetheless, despite all of these challenges the term Cru Bourgeois has continued on to the present day with a slight interruption in 2007 when the Administrative Court of Appeal of Bordeaux annulled the 2003 official classification of the Crus Bourgeois du Médoc.  By 2008, a new system to determining Cru Bourgeois was set into motion.
Cru Bourgeois du Médoc  can come from vineyards located in one of eight Médoc AOCs:  Médoc, Haut-Médoc, Listrac-Médoc, Moulis, Margaux, Saint-Julien, Pauillac and Saint-Estèphe.    This designation is subject to a blind tasting of samples from the estates , tasted and scored by a jury of experts made up ofprofessional tasters recognized  in the industry,  with six tasters per session.  Average of the scores are taken, if the wine obtains a score greater than or equal to the representative sample, it is a "Cru Bourgeois".   According to Conseil des Vins du Médoc , 2014 produced 30 million bottles, from 278   estates, mostly from AOC Medoc and make up 33% of Médoc's production.
Some Compelling Examples of the 2014 Vintage: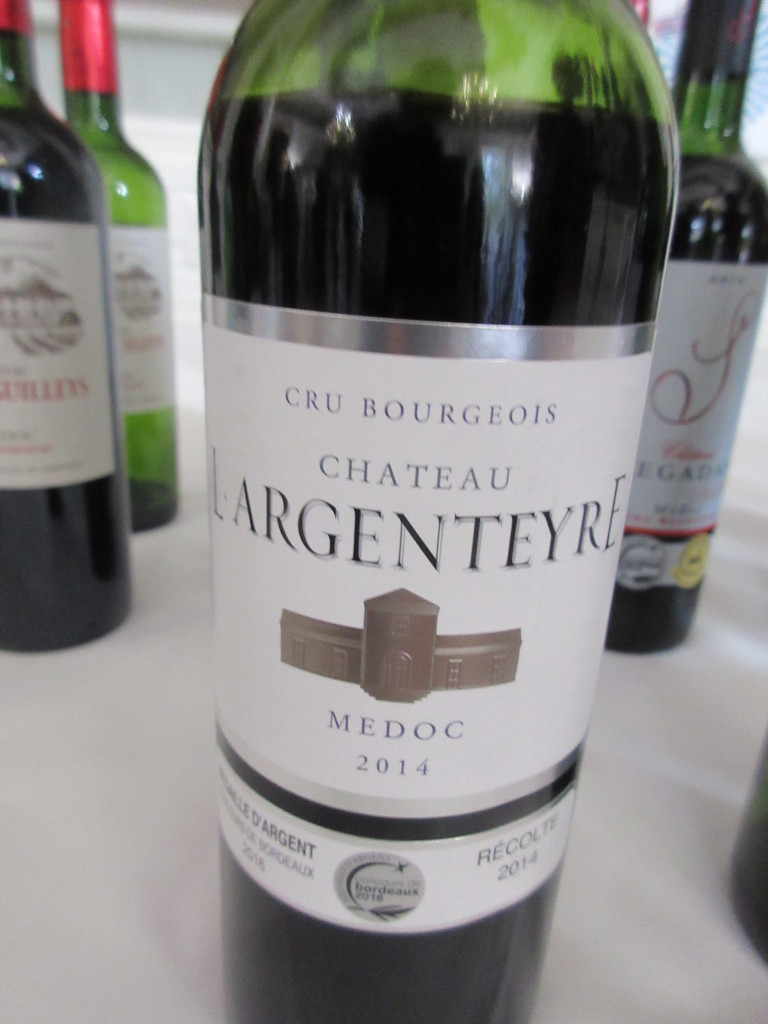 Chȃteau l'Argenteyre Medoc   – meaty, red currant,    raspberries, cherry made  from 55% Cabernet  Sauvignon, 30% Merlot,  15% Petit Verdot.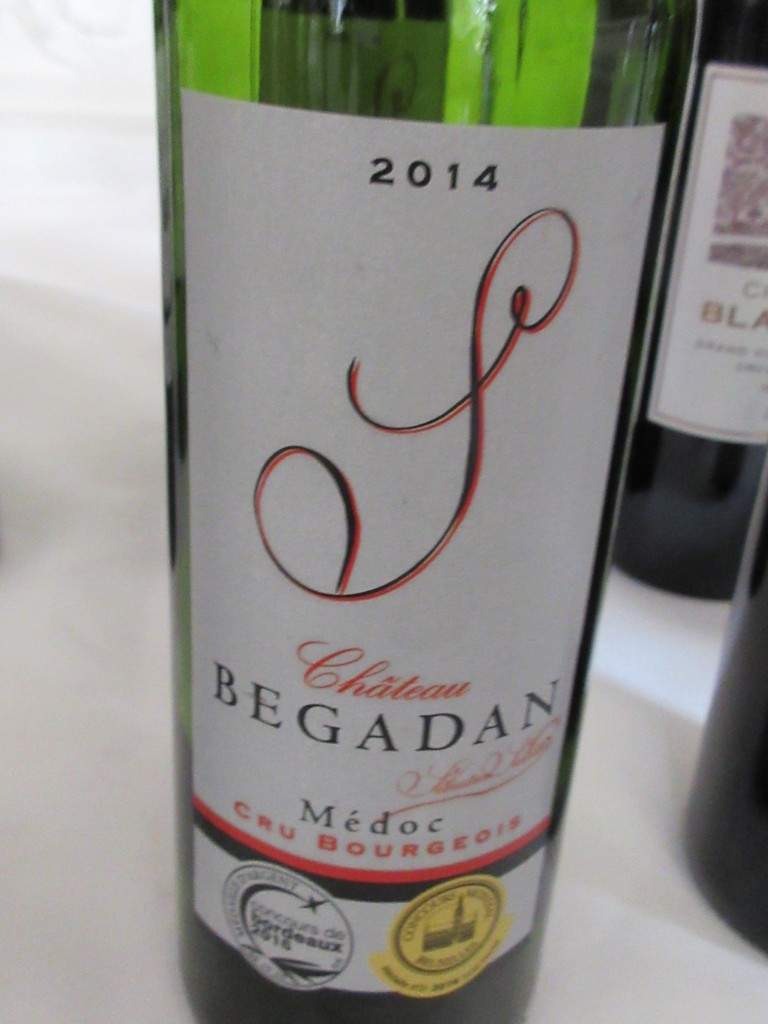 Chȃteau Bégadan Medoc –  deep ruby color, tea, black  plum, black raspberries,    full-bodied, firm tannins.
Chȃteau Bournac Medoc – Tannic, blackberry, brambly, very extracted, good backbone.  70% Cabernet Sauvignon, 30% Merlot.
Chȃteau La Gorre Medoc – Fragrant violet, floral notes herbal dill notes, black fruit: plums, black cherries.  60% Merlot, 35% Cabernet Sauvignon, 5% Petit Verdot.
Chȃteau Aney Haut-Medoc  - red fruit: red currants, raspberries, plums. 65%  Cabernet Sauvignon,  25%  Merlot, 7% Cabernet  Franc, 3% Petit Verdot.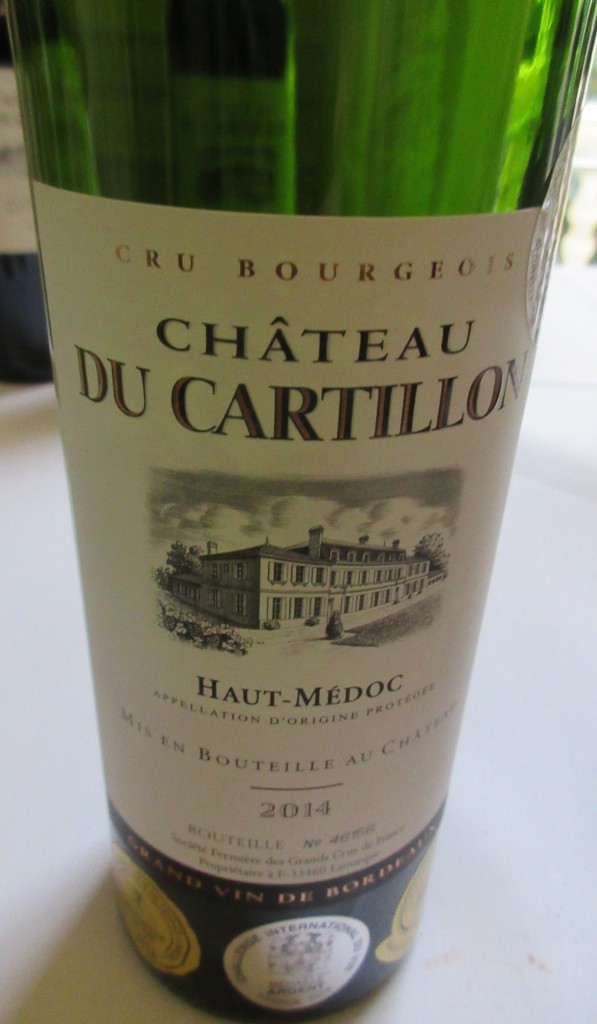 Chȃteau du Cartillon Haut-  Medoc – Very lush,    blackberries, black plum,  firm tannins yet lush.  67%  Merlot, 28% Petit Verdot,  5% Cabernet
Sauvignon.Chȃteau Lestage Listrac-Medoc – Fragrant sweet red and black fruit, lots of firm tannins balanced by concentrated fruit. 62% Merlot, 37% Cabernet Sauvignon, 1% Petit Verdot.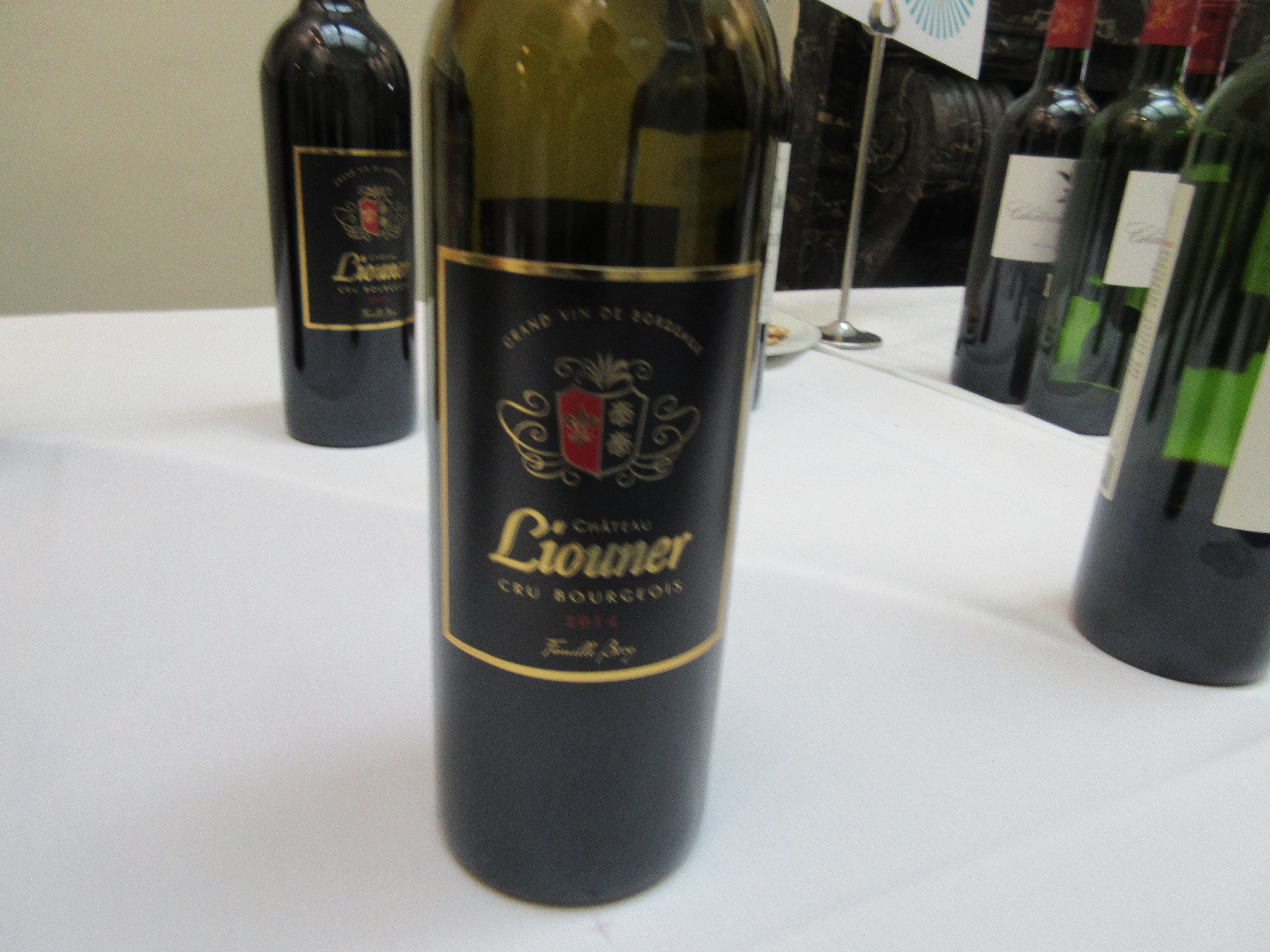 Chȃteau Liouner  Listrac-Medoc – Plummy  black fruit, very firm tannins.  70% Merlot,  30% Petit Verdot.
Chȃteau Pomeys Moulis-en-  Medoc – Good  backbone,  violets, plums, black fruit.  55% Merlot, 45% Cabernet  Sauvignon.